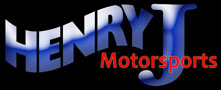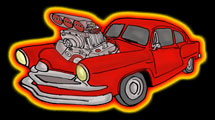 Copyright 2014 The Sandman Motorsports
All graphics, design, and illustrations within this website are produced by
Status Mark Creative
and may not be reproduced in part or in whole without the expressed written permission of Status Mark or Sandman Motorsports. All rights reserved.


Henry J Motorsports
Carl (The Sandman) Bilski 4274 Marks Road
Medina, OH 44256
(216) 780-1309
Call or email anytime!
Email The Sandman
*NEW* Rat Rods
*NEW* 5 Engine Tractor
Honoring All Veterans
The Motivator
Latest News
Links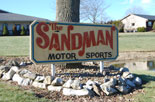 Call (216) 780-1309 to make an appointment and visit Sandman Motorsports.
Through our Exibitus division, we take our motor sports equipment to open houses, grand openings, new product promotions, trade shows, and many other functions held by local businesses to give their employees an opportunity to see first hand some of the ways their company's products are used. Our five-engine tractor is always very popular at these events. Most people have never seen five blown engines producing 7,000 horsepower on a tractor before, and the looks of disbelief on their faces when they see the tractor for the first time is amazing.
A Multi-Faceted Venture... (Con't)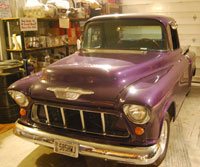 We're also involved in a tractor safety certification program for youngsters ages fourteen to sixteen. At the end of every session, we give each graduate a yellow Sandman key chain and explain that the yellow color is to symbolize caution. After they place their keys on that yellow key chain, we hope that every time they place one of those keys in a tractor, truck, or automobile, the yellow tag reminds them of the importance of being careful. Many local parents are now insisting that their child take this tractor safety course as a prelude to getting their drivers license.

Hopefully, some of the students will realize how cool it is to have access to this gourmet buffet of knowledge. Many young people come back and say, "You know, I just wanted to thank you for that information because it has really helped me a lot!" Their parents get excited because it's the same message they're trying to send. We use the fancy equipment and the excitement it generates in an attempt to influence the young people at the most important time in their lives -- now!

One of our main goals at The Sandman Motorsports is centered around giving back to the youth of today. In conjunction with local career centers, we hold open houses for young folks who are still in school and haven't chosen a career yet. We use our modified vehicles to gain the students' attention, and then we explain that if they're interested, something like this could be in their future. We want them to know that being in school is the most perfect place for them at this time in their lives. They get to attend school for free, they get a ride there, fed there, and their books are furnished free of charge. Their minds are their personal toolboxes and they have the opportunity to fill those toolboxes with all the tools they want, and use those tools throughout their entire lives at absolutely no cost to themselves.
CONTINUED...

~Manufacturing the all new fiberglass bodied 1952 Henry J's!~