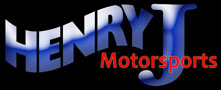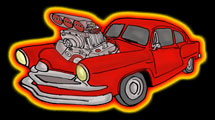 Copyright 2014 The Sandman Motorsports
All graphics, design, and illustrations within this website are produced by
Status Mark Creative
and may not be reproduced in part or in whole without the expressed written permission of Status Mark or Sandman Motorsports. All rights reserved.


Henry J Motorsports
Carl (The Sandman) Bilski 4274 Marks Road
Medina, OH 44256
(216) 780-1309
Call or email anytime!
Email The Sandman
*NEW* Rat Rods
*NEW* 5 Engine Tractor
Honoring All Veterans
The Motivator
Latest News
Links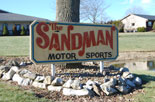 Call (216) 780-1309 to make an appointment and visit Sandman Motorsports.
Just Tell Them "Thanks!" (Con't)


-The vase is tied with a red ribbon, a symbol of our continued determination to account for our missing and the red ribbons worn on the lapels of those who aren't here.

-The slice of lemon on the plate reminds us of the bitter fate of those captured and missing in a foreign land.

-The pinch of salt symbolizes the countless tears shed by their families as they wait.

-The inverted glass symbolizes their inability to share a toast with us. The candle reminds us of the light of hope which lives in our hearts to light their way home.

-The chair is empty because they are still missing.

At the end of my explanation of this corner, I ask everyone to go within their families and seek out the Veterans, and, if Uncle Fred, Aunt Mary, Grandpa, Dad, or whoever was a Veteran, to shake their hand and just say, "Thank-you for the freedom I have!"
In this growing corner, we have a plaque with the names of several Veterans on it that honors those Veterans no longer with us. My father, uncle, and a couple of very good friends are on this plaque and this helps keep their memory alive. If anyone would like to have their relatives or friends on the plaque, we'll be glad to add them. We don't charge for doing this, but as we're completely supported by donations, we gratefully accept any donation you'd care to make.

These names also appear on each side of the two-wheel drive truck we use in national competitions. This truck, called "USA's Answer to Terrorism - The War Eagle", has been featured at many car and truck shows in addition to the two-wheel drive pulling competitions we enter. These Veterans' names are carried with us in our "battle to compete" and in our enduring efforts to remember those who are no longer with us.

CONTINUED...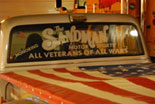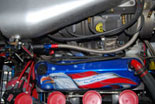 Click photos to enlarge.

~Manufacturing the all new fiberglass bodied 1952 Henry J's!~